Description

How they work?

Size Chart

What people say?



Super Support & Better Fit

Patented rib design provides more support. Opens your nose up to 42% VS. nasal sprays alone

Natural nostril shape of dilator for comfort and fit

One hard clip and one soft, help it stay deep and well

Available in sizes S/M/L


Soft & Thin & Flexible

1.5*3 mm frame&ribs for more airflow and comfort

Not lay down your nose hair and affect its function

Soft and flexible material protects you from hurting

Medical grade soft plastic, FDA approved, Latex-BPA-Phthalate-free

Cost-Effective Way to Trial

A great value Mix-size pack is now available for first try

If no size fits, please try
Ultra-Thin Nasal Dilator which is broadly suitable, helping you sleep better.

Trial Pack: S, M, L each.

Normal Pack: 3 dilators of one size



Easy to Wear

Hold the nasal dilator with narrow end facing nose tip

Tilt it and insert the narrow end into your nasal passage

Push the wider end into nasal passage. Fasten clips

Adjust it with fingers. Make sure it dilates your nose



Side Sleep Backpack

2nd Gen Nasal Dilator

3rd Gen Nasal Dilator

Mouth Strips

Position

Back

Nose

Nose

Mouth

Symptom

Snoring due to throat obstruction

Snoring due to nasal congestion

Snoring due to nasal congestion

Snoring due to other unknown reasons

Effect

Relieve snoring, Develop side
sleeping habit

Relieve nasal congestion and snoring

Relieve nasal congestion and snoring

Relieve snoring, Develop nose breathing habit

Working Principle

Help maintain side sleeping
position so that respiratory
tract to assume its natural
position without being blocked by the relaxed soft palate which will relieve snoring due to throat obstruction

Effectively support your nasal cavity and maximize the airflow which will relieve snoring due to nasal congestion

Effectively support your nasal cavity and maximize the airflow which will relieve snoring due to nasal congestion

Reduce snoring and sleep talking by gently closing your mouth.

Material

Polyester, Polyethylene

Medical Grade Plastic

Medical Grade Silica Gel

Non-woven Fabric
Check this out to see how important the sleep is.
https://pillowpicker.com/health-wellbeing/benefits-of-sleep/

How do WoodyKnows Advanced Nasal Dilators work?
WoodyKnows Advanced Nasal Dilators(2nd Gen) are designed to relieve snoring caused by obstruction in the nasal passageway. They gently but effectively support and open up nasal passages from within to maximize the airflow, keep you breathe better and solve the nasal congestion problems instantly.
What is snoring?
Snoring
is the vibration of respiratory structures and the resulting sound due to obstructed air movement during breathing while sleeping. In some cases, the sound may be soft, but in most cases, it can be loud and unpleasant. Snoring during sleep may be a sign, or first alarm, of obstructive sleep apnea (OSA).
Causes of snoring
First-time Buyers are Recommended to Order the S+M+L+XL Multi-sized pack!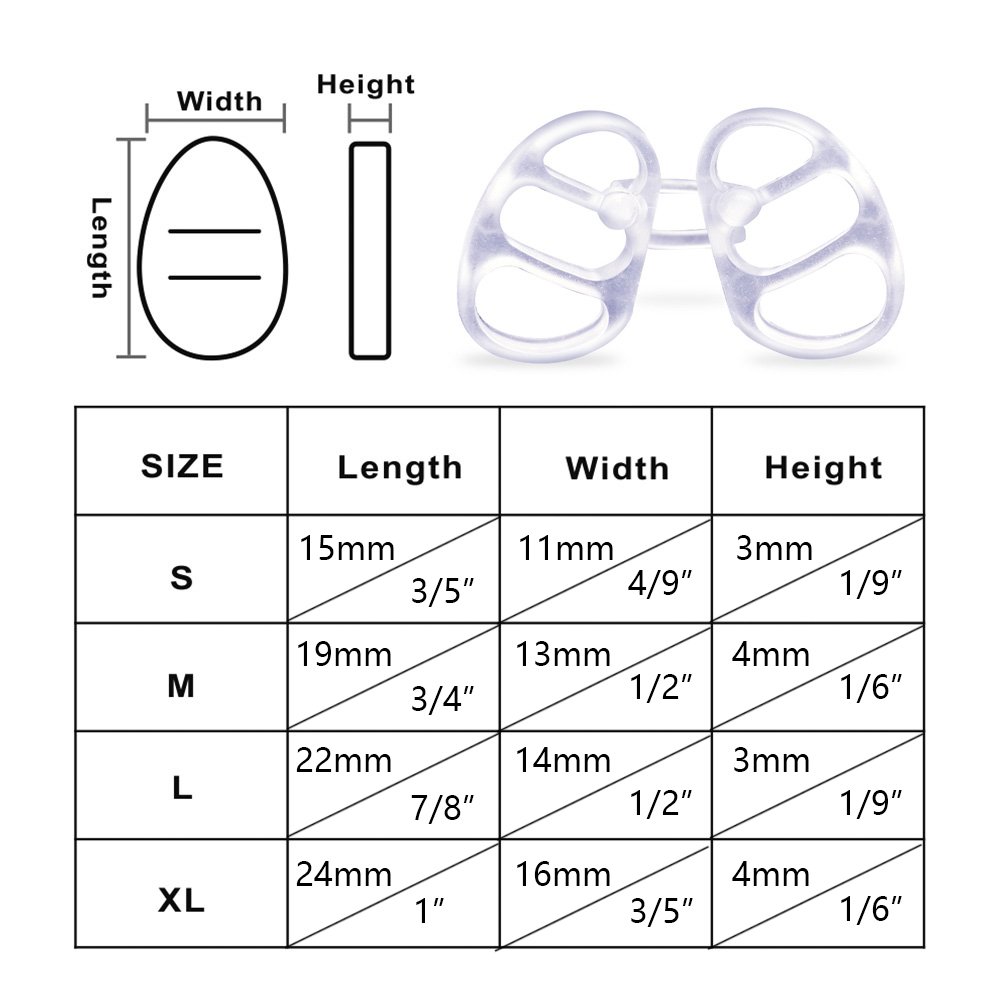 Worked for me!
These little things are a god send for me. Once they arrived I immediately tried them and didn't realize how little air I was breathing through my nose until putting them in. I've never been a morning person; I would wake up tired, grouchy, a bit disoriented, and it was always a struggle to get out of bed. I've always set three different alarms and never drug myself out of bed until the third one. On a recent family vacation in which rooms where shared, I was urged by some family members to see about going to a sleep clinic because they thought I had sleep apnea. I've actually woken myself up a couple of times grasping for air, but didn't really think much of it until they pointed it out, because it didn't happen that often. I found these and decided to give them a try until my appointment. The very first morning after wearing them I woke up and got out of bed after the first alarm. It was the first time in a long time that I woke up feeling refreshed and like I had actually slept. My mouth wasn't dry, my throat didn't hurt and I wasn't all congested. As far as snoring goes, I couldn't say how it works for that, I sleep alone. I find them pretty comfortable as long as you find the right size. The only part I could really feel was the connector and I got use to it pretty fast.
It works for me.
I have been a Breath Rite user for longer than I can remember. They were better than nothing and did help with my breathing but didn't stop the snoring and I still woke up with headaches. I've tried throat sprays. I've tried all kinds of oddball devices (you don't want to know!). I saw these on Amazon and thought "why not?" I read the reviews, mostly positive and a few negative and figured nothing works for everyone, especially when it comes to snoring. Well, let me tell you putting this in for the first time is a little freaky. I mean, I had flashbacks to being a toddler and having Mom yell "Don't put those peas up your nose!" Seriously, how often is it good to shove plastic up your schnozz? I started with the large size thinking it would work best because I have a large nose. Too big. I jumped down to small, and it was too small. The medium turned out to be my Goldilocks point. Just right. As soon as I got it in right I never wanted to take it out! I looked at my wife and said "Is this what breathing is supposed to be like?" Of course her answer was less than helpful. "I don't know, it's in your nose not mine." Yep. Should have seen that coming. Still, I hadn't had so much air flow through my nose in decades! The air actually hurt a little at first. Now for the snore test. I can say that the wife says the snoring is very much decreased. It's not gone altogether, but it is far more tolerable than it has ever been. And I haven't woken up with a headache since I started using this little gem! The only real negative I have found is that it constantly feels like you have a huge booger begging to be picked. I mean, you do have a foreign object up there! I've gotten more and more used to that though. I plan to buy these in bulk just in case they go off the market for some reason.
The Nasal Piece I have been looking for!
This is my second try at a product that reduces my snoring. I very impressed with the product. I was using the sleep right nasal breath aide and was having trouble with it causing tremendous pain in my left nostril. I decided to do a little more shopping around and came across WoodyKnows's nasal piece. I use the nose piece every night with no pain. I had no idea I could breath at night with a nose piece and have no pain in the morning! If you choose the nasal piece, please read the instructions of how to use it. It is quite the sophisticated nasal piece and has some great features of how to remove it and adjust it within your nose that you wouldn't know unless you read the instructions.